Fill out the information below and click on Complete Registration at the bottom of the page to register for this event.
Teen Escape Room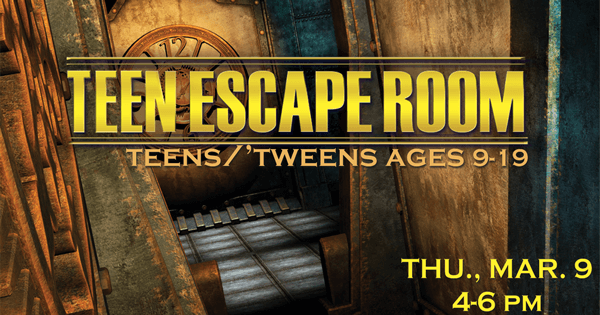 Event Type: School Age Program
Age Group(s): Teen
Date: 3/9/2017
Start Time: 4:00 PM
End Time: 6:00 PM


Description:

Teens (grade 6-19 years old), in this live-action game, escape the lab of an evil mastermind before her doomsday machine takes out the western hemisphere. To survive, find clues to puzzles that will lead you to the key that unlocks the door. Can you escape in time to hit the button before the machine detonates?

Library: HCPL - Central Library Map
Location: GBC Community Room A & B


Other Information:

FYI: There may be a library photographer or videographer present. These images may be used for publicity and marketing purposes to promote the Hancock County Public Library. Please contact a member of staff if you wish to be exempted from this activity.

Contact: Teen Services
Contact Number: 317-462-5141 ext.238
Status: Closed

Please Note
Attendee must be 19 Years old or younger.

Attendee must be at least in grade 6 or higher.

Sorry, this event has already occurred. Please register for another event.