Epic Trivia Smackdown! Throwdown! Showdown!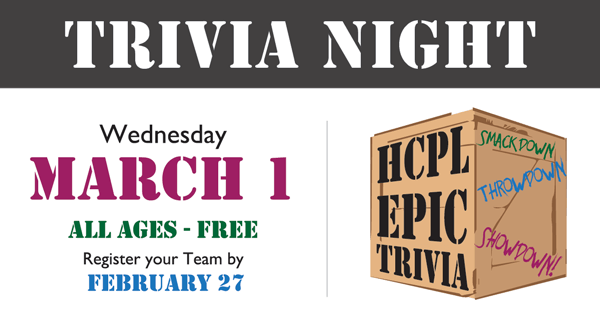 Event Type: Educational
Age Group(s): All Ages
Date: 3/1/2017
Start Time: 6:30 PM
End Time: 9:00 PM


Description:

Join us for a fun-filled evening of friendly competition as the library holds its 3rd annual trivia contest. Entry is free!

Teams (up to six members of all ages) can consist of friends, family, coworkers--anyone. Decide on a captain, then list you team's name and enter the number of players. (Only one person per team needs to register. Please use your captain's name.)

First- and second-place teams win gift cards, and the team that shows the most spirit wins an award. We encourage you to decorate your table and wear costumes that match your team name.

Trivia night check-in begins at 6:00 p.m., and the contest begins at 6:30 p.m. Teams may bring snacks and non-alcoholic beverages for energy.

Space is limited to 15 teams. Please register by February 27, 2017.

Library: HCPL - Central Library Map
Location: GBC Community Room A & B
Registration Ends: 2/27/2017 at 11:55 PM


Other Information:

FYI: There may be a library photographer or videographer present. These images may be used for publicity and marketing purposes to promote the Hancock County Public Library. Please contact a member of staff if you wish to be exempted from this activity.

Presenter: Joy Summers, Stacey Terhune
Status: Closed

Sorry, this event has already occurred. Please register for another event.